TRADE, OWNER BUILDER & PUBLIC WELCOME
**Australia Day Weekend Announcement**
Closing: 5:00pm Thursday 25th January
Re-open: 7:00am Monday 29th January
CLOSED: FRIDAY, SATURDAY & SUNDAY

Driveway Grates, Trench Grates, Gully Grates, Sump Grates, Road Drainage Grates, Ezi-Walk Grates are all available from Scott Metals. The Grates listed below are made to order, NOT stocked, and take approximately 15 working days for manufacture and galvanising ex our Brisbane depot. No other sizes are fabricated. Pricing Table below.

DRAINAGE GRATES LISTED BELOW ARE THE ONLY SIZES AVAILABLE
All Grates are fully Hot Dipped Galvanised to AS 4680 Standard after fabrication providing a superior finish and extended life.
All Drainage Grates comply with the requirements of:
AS3996 – Metal Access Covers Road Grates and Frames.
The most common application for the drainage grate is the cross driveway grate. These grates help divert water away from buildings, driveways and car parks etc. The system consists of a pre-fabricated frame which is then concreted into place during construction and the grates are then installed at a later date. If you already have a trench in place then check the grate sizes stated below to ascertain if they are compatible with your opening. The load class is explained below to help you decide which grates will suit your application.
AS3996 Strength Classification and the loading conditions applying to these classifications are as follows:
Class A – Serviceability Test Load 6.7kN (Extra Light Duty - Pedestrian)
Footways and areas accessible only to pedestrians and pedal cyclists.
Class B - Serviceability Test Load 53kN (Light Duty - Car)
Footways that may be mounted by a vehicle or livestock, and light tractor paths.
Class C - Serviceability Test Load 100kN (Medium Duty - Truck)
Malls and pedestrian areas open to slow moving commercial vehicles.
Class D - Serviceability Test Load 140kN (Heavy Duty - Semi Trailer)
Carriageways of roads and areas open to commercial vehicles.
Load class A (Ezi-Walk) is designed for pedestrian areas to minimise the entrapment of small objects like shoes and wheel chairs, while Class B,C,D are designed for high water intake and are still wheel chair and bike safe.
Delivery: Steel Drainage Grates can be delivered Door to Door Australia Wide. Contact Us for Delivery Prices and lead times for all your Steel Drainage Grate Supplies in: Adelaide, Brisbane, Canberra, Darwin, Hobart, Perth, Melbourne, Sydney and Regional & Country Areas or collect from our Woolloongabba, Brisbane Depot.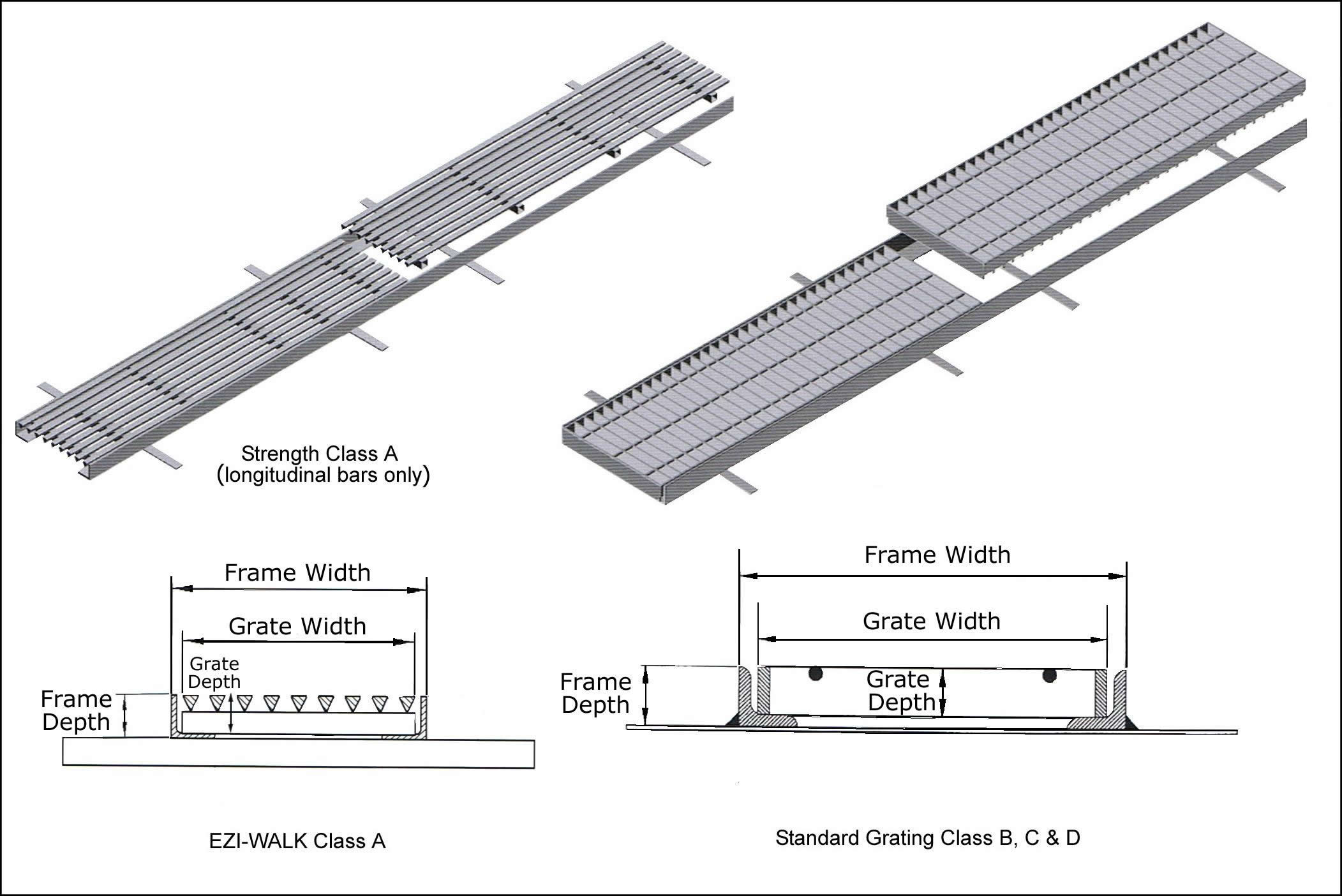 Steel DRAINAGE GRATES PRICING TABLE
All Prices Updated on 15th Feb 2018 & INCLUDE GST
Door to door Delivery Australia Wide available,
or Collect from our Brisbane Depot.
Class A GRATE TYPE
Class A APPLICABLE FRAME
PEDESTRIAN ONLY - Ezi-Walk Grate
Ezi-Walk Frame
Grate
Code
Grate
Size

Price
Each
Kgs
Each
Frame
Code
Frame
Size
Price
Per Mtr
Kgs
Mtr
MTG10AG
997L x 168W x 35D
$115.00
8
MTG10AF
185W x 40D
$84.00
7
MTG15AG
997L x 219W x 35D
$125.00
9
MTG15AF
235W x 40D
$87.00
7
MTG22AG
997L x 296W x 35D
$146.00
12
MTG22AF
312W x 40D
$87.00
8
DRAINAGE GRATES LISTED ARE THE ONLY SIZES AVAILABLE
Class B GRATE TYPE
Class B APPLICABLE FRAME
LIGHT VEHICULAR TRAFFIC - Car
Standard Grating Frame
Grate
Code
Grate
Size
Price
Each
Kgs
Each
Frame
Code
Frame
Size
Price
Per Mtr
Kgs
Mtr
MTG10BG
995L x 149W x 20D
$114.00
7
MTG10BF
165W x 25D
$74.00
4
MTG15BG
995L x 209W x 25D
$130.00
8
MTG15BF
225W x 30D
$79.00
5
MTG22BG
995L x 284W x 25D
$142.00
13
MTG22BF
300W x 30D
$79.00
6
MTG30BG
995L x 379W x 32D
$199.00
20
MTG30BF
395W x 40D
$102.00
7
MTG45BG
995L x 549W x 45D
$284.00
39
MTG45BF
565W x 50D
$117.00
11
MTG60BG
995L x 709W x 50D
$365.00
54
MTG60BF
725W x 55D
$133.00
13
DRAINAGE GRATES LISTED ARE THE ONLY SIZES AVAILABLE
Class C GRATE TYPE
Class C APPLICABLE FRAME
MEDIUM VEHICULAR TRAFFIC - Truck
Standard Grating Frame
Grate
Code
Grate
Size
Price
Each
Kgs
Each
Frame
Code
Frame
Size
Price
Per Mtr
Kgs
Mtr
MTG22CG
995L x 314W x 40D
$196.00
21
MTG22CF
330W x 45D
$110.00
8
MTG30CG
995L x 399W x 45D
$236.00
29
MTG30CF
415W x 50D
$112.00
9
MTG45CG
995L x 543W x 65D
$376.00
54
MTG45CF
565W x 75D
$175.00
16
MTG60CG
995L x 693W x 65D
$433.00
68
MTG60CF
715W x 75D
$175.00
20
DRAINAGE GRATES LISTED ARE THE ONLY SIZES AVAILABLE
Class D GRATE TYPE
Class D APPLICABLE FRAME
HEAVY ROAD TRAFFIC - Semi Trailer
Standard Grating Frame
Grate
Code
Grate
Size
Price
Each
Kgs
Each
Frame
Code
Frame
Size
Price
Per Mtr
Kgs
Mtr
MTG15DG
995L x 239W x 40D
$179.00
18
MTG15DF
255W x 45D
$109.00
8
MTG22DG
995L x 324W x 45D
$216.00
24
MTG22DF
340W x 50D
$114.00
9
MTG30DG
995L x 393W x 65D
$300.00
41
MTG30DF
415W x 75D
$169.00
16
MTG45DG
995L x 559W x 75D
$495.00
80
MTG45DF
575W x 80D
$169.00
14
MTG60DG
995L x 709W x 75D
$579.00
98
MTG60DF
725W x 80D
$169.00
15
DRAINAGE GRATES LISTED ARE THE ONLY SIZES AVAILABLE